An analysis of one of the most overlooked episodes of mass starvation in history and what we can learn from it today.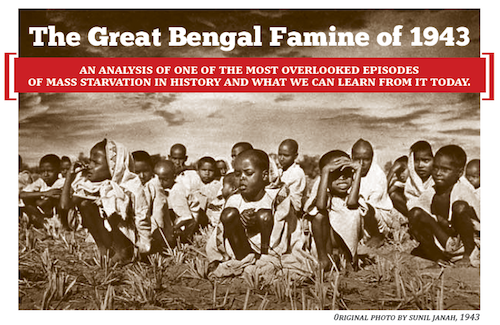 DR. JANAM MUKHERJEE is an Assistant Professor of History at Ryerson University in Toronto and author of 'Hungry Bengal: War, Famine and the End of Empire', an account of the impacts of hunger and economic violence on the people of undivided Bengal. Incorporating extensive archival and oral history research, Mukherjee draws structural links between war, famine, social upheaval and civil violence in mid-twentieth century Bengal.
Dr. Mukherjee will focus on the famine of 1943 and, additionally, will address hunger, famine and dislocation more broadly and draw links between the famine in 1943, that in 1974, and the "culture" of hunger that remains in Bengal today.
Ms. SUMANA GANGULY, the well-known and melodious singer, has kindly offered to perform a couple of songs for the occasion.
Admission Free
Saturday, 12 September, 2015
6:30 p.m. – 8:30 p.m.
ACCESS POINT ON DANFORTH
3079 Danforth Avenue,
Toronto, ON M1L 1A8
(near Victoria Park subway)